Students enrolled in specific Outlier courses have access to 300 minutes of free tutoring per month via Brainfuse! Learn more about setting up your Brainfuse account, buying more minutes, and some alternatives.
Courses Eligible for Brainfuse
Outlier is pleased to offer tutoring through our partner Brainfuse for the following courses:
Precalculus
Calculus I
College Algebra
Statistics
College Writing I
Setting Up Your Brainfuse Account
1. Click the Green Question mark in the bottom right-hand corner of the Outlier site.


2. Select "Tutoring"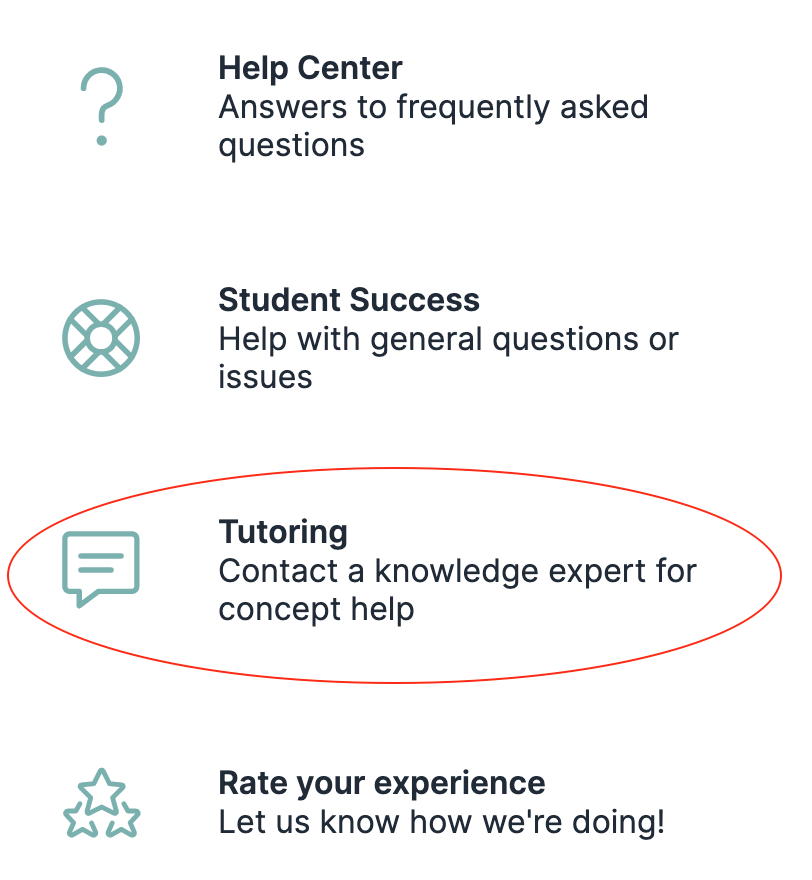 3. Then, "Brainfuse"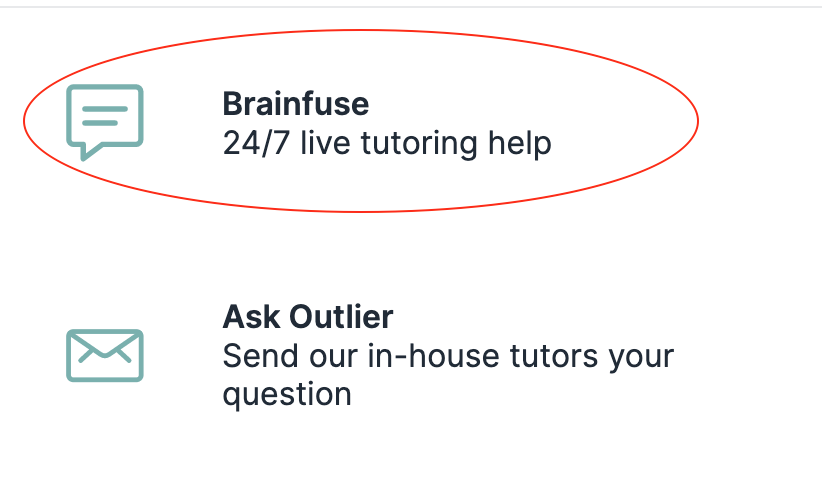 For quick access in the future, make sure to bookmark this page.
4. Click "Login" in the upper right-hand corner and enter your login credentials.
Your user name is the email address you use for Outlier.org
Your password is "outlier"
Please note that access to Brainfuse may be delayed for 3-5 business days after the start of your course while student data is imported to the Brainfuse systems.
Buying More Minutes
If you would like to purchase more Brainfuse tutoring minutes after using up your allotted amount, you may do so by taking the following steps:
1. Log into your Brainfuse account.
2. You will see that you are out of time. Select the red icon and click the "Buy" hyperlink to purchase additional minutes.
3. You will be directed to choose from three different tutoring packages: select one.
4. Checkout with PayPal or credit/debit card

Course not included in Brainfuse? Not to worry!
If you have used up your minutes and decide not to purchase more, or if you are in a course not covered by Brainfuse tutoring, we are here to support you. Check out the options below for getting help in your coursework:
Reach out to your peers and Outlier tutors in the discussion community for your course. Remember to add the "@Outlier" tag if you'd like a tutor to jump into the conversation.
Submit an inquiry via the "?" button on your course page when you encounter a problem or card you don't understand - use the "Tutoring" option to send a question directly to a tutor.
Reach out to the Success team to learn more about how to navigate your courses, manage your time, and solve any technical issues you may be facing. If you're not sure where a question goes - start with Success!