A withdrawal is defined as exiting a course after the drop deadline and before the withdrawal deadline.
If you are taking individual Outlier courses or an Outlier certificate through your employer, the withdrawal process is slightly different. Please view this article to learn more.
What happens if I withdraw from a course?
Withdrawing from a course is different from dropping a course (which eliminates any history of your enrollment from your academic record); Students who withdraw from a course receive a "W" on their transcript from Golden Gate University, but it does not affect your GPA.
You will still have access to the course's lectures and active learning, but your progress in the course will not be saved. You are also not eligible for a refund.
Before you consider withdrawing, we strongly recommend that you speak with your advisor to understand how exiting may affect your graduation timeline and/or contact the Financial Aid Office to see how your financial aid may be impacted!


Withdrawal Eligibility
Any student enrolled in a Degrees+ course can elect to withdraw from their course at any point after the Drop Deadline but before 11:59 pm ET on the Withdrawal Deadline (9 weeks after the start date).
Withdrawal Deadlines specific to your cohort can be viewed:
Under Course Toolkit > Schedule
On the Manage Course page (Account > Course Management > Manage Course)


Is it for me?
As you consider whether or not withdrawing from your course is right for you? Here are a few questions you might ask yourself.
Is it possible for me to catch up before my final exam? Check out your Course Toolkit to see the recommended pacing for your course. You know your own schedule best - is there too much to cover by the end of the course? You'll want to complete all sections to receive a good grade on exams.
Can I realistically take quizzes from all previous chapters to improve my score? If you have the time, going back to each chapter to take quizzes again can increase your overall score (we only take the highest!) and help you study for the final. If you do not have the time to do this for each chapter before the final, you should consider withdrawing.
Am I okay with a poor grade going on my permanent academic record? If you do not withdraw before your course's deadline, the grade you receive - good or bad - will go on your transcript. If you have academic goals and are currently not happy with your scores in the course, you should consider withdrawing.
Withdrawing from a Course
Log into the Course Management page of your Outlier Account to manage your courses.
You can also access the menu by navigating to the top right of your screen and clicking the three horizontal lines next to your email address. Next, click Account.

On the left side of your Account page, click Course Management. Then, click Manage Course next to the course you plan to exit from: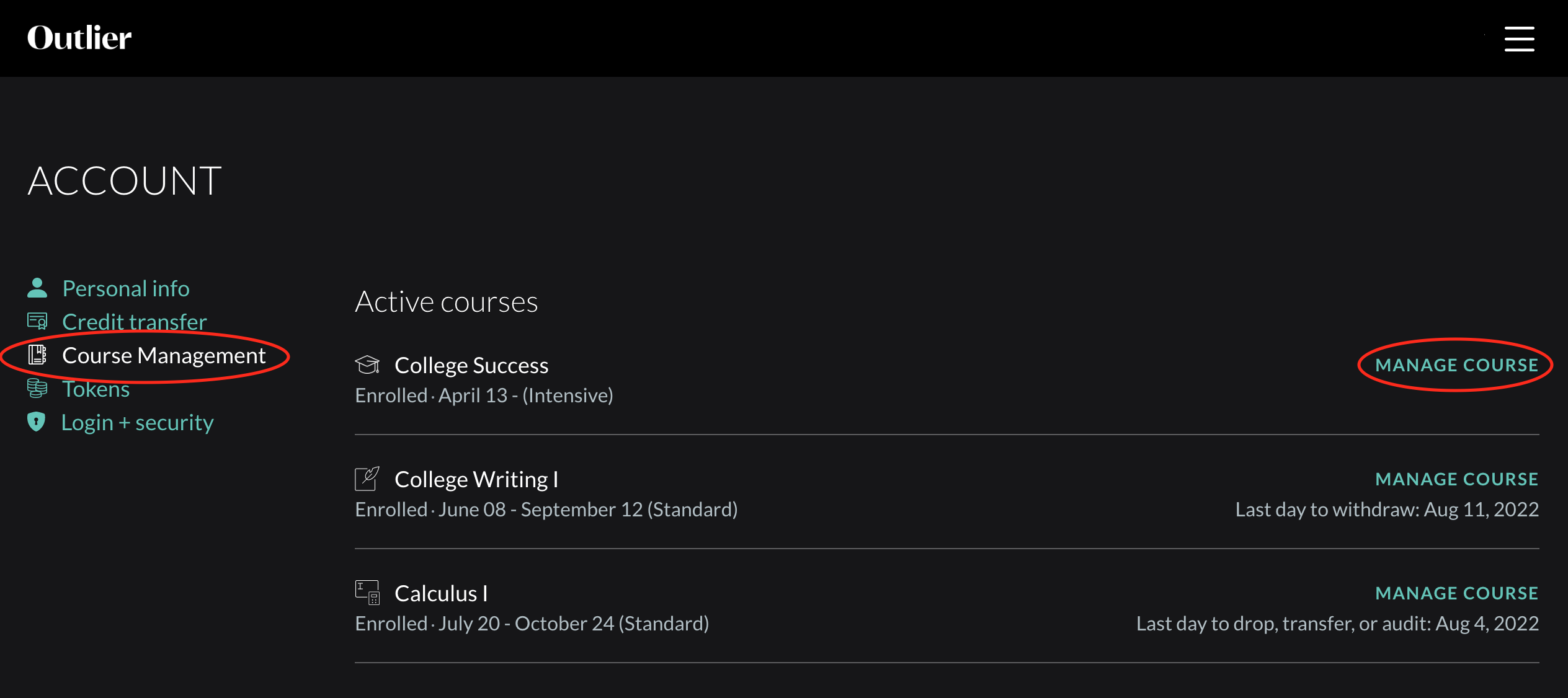 Here, you will find the option to withdraw from your course and the last day to withdraw. Click the Withdraw button to be taken to the Withdrawal Form.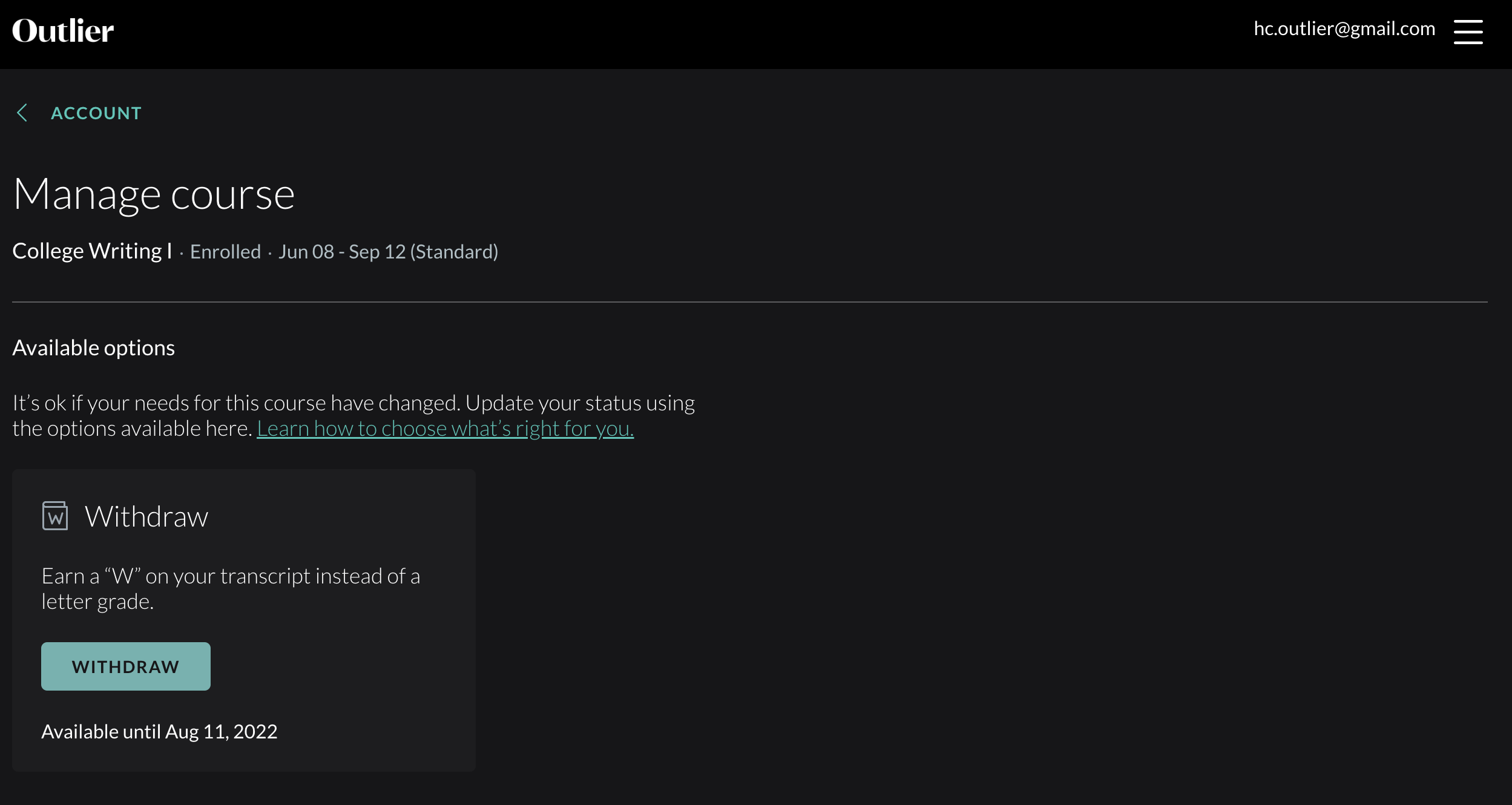 Your withdrawal request is not complete until you have submitted the Withdrawal Form.
What can I do if the withdrawal deadline has passed?
After the withdrawal deadline, students will receive a letter grade for the course. If your deadline has passed, your instructor and advisor are here to support you academically!
We recommend starting by contacting your instructor during Office Hours (or via email) to ask for their assistance with tough concepts or help to catch up with the material.
You can also schedule time with your advisor if you need assistance outside of your course material.
Extenuating Circumstances
We understand that life is unpredictable, and things may happen that make it difficult to keep up with your studies. So if you have experienced extenuating circumstances and wish to appeal for a late withdrawal, please fill out the Exception Request Survey.

Fill out the survey by clicking on Tell Us More on the Manage Course page. The survey is available to students after the Withdrawal Deadline has passed but prior to the term's end date. Requests will be reviewed by Golden Gate University and all determinations are final.