Getting started has never been easier! We are here to guide you through it. Have trouble logging in? Is your course missing? Continue on for tips on password help, changing your email, and what to do if you are missing a course.
Log In (Create an Account)
After purchasing a course, to get into the material, you'll first need to create an Outlier account and complete our registration process.
Head to this article to learn how to do this.
Password Trouble
Click "Forgot password?" on the login page, and we'll send you instructions to reset your password!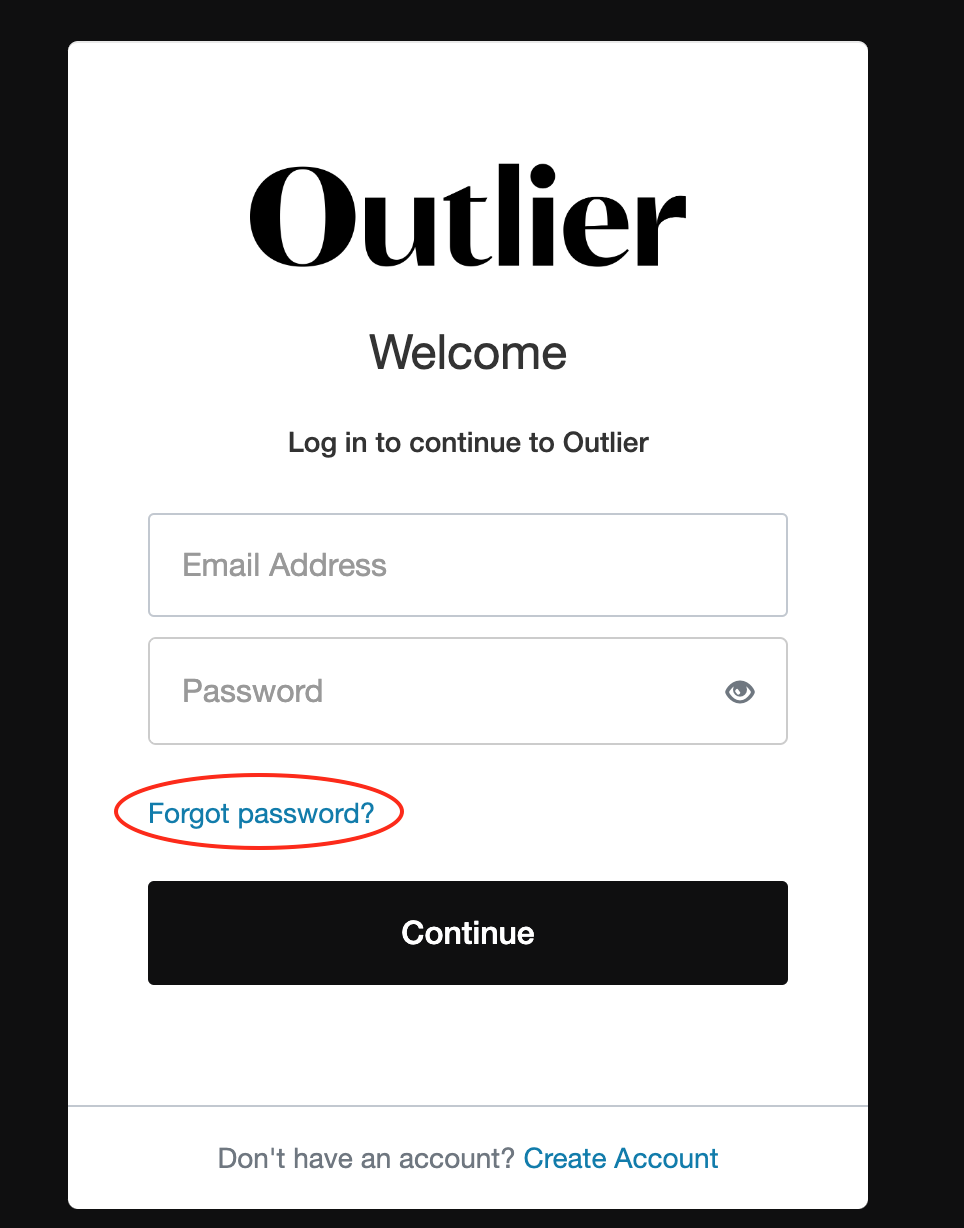 If you do not receive password reset instructions, or if you receive a pop-up error like this one,

it's very possible that you have yet to create an account. Go to this article to learn how to create your account.
Change your Password
Once logged into your Outlier account, you can change your password by navigating to the Menu in the upper right corner of your browser window and selecting 'Account':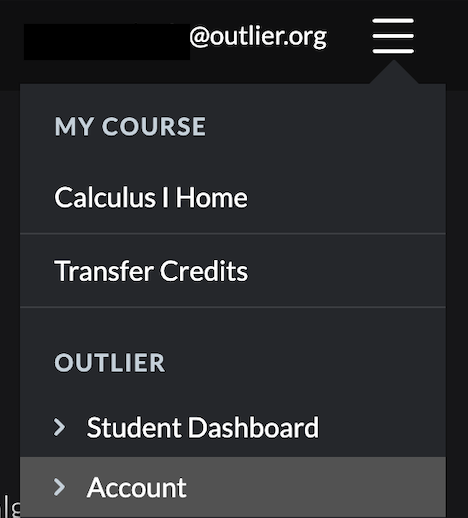 From there, you'll click on the Login + Security section. Next to the password, you can click 'Update' and you'll be prompted to select a new password:

Change Your Email Address
Your student email address allows you to be able to view and access your course. Communications regarding course enrollment, exam information, and grades are also delivered to students via email, so it's important that we have the best email address to reach you!
You can quickly change your email address in your Outlier student account. Visit this article for guidance.
Missing Course
There are two common scenarios where we see this happen:
New Students:
Did you create an Outlier account using an email that is different from the email address used to purchase your course?
Your student email address is your link to the courses you purchased. Double-check that the email address you used to purchase the course is the same as the one you used to create your student login. If they don't match, sign up for a new student account using the correct email address.
Current Students:
If you are enrolled in a current cohort but have not been able to make meaningful progress by the time 20% of the term has passed, you may have been administratively dropped.
Our team will make attempts to contact students before this important benchmark. If you believe this may describe your circumstances, you can check your student email address for a message from us or reach out to us for more information.
Safe Sender List
Outlier's Student Success team will occasionally reach out to current students with proactive reminders or to offer support and we want to make sure you receive our messages!
Please be sure to add success@outlier.org to your list of Accepted Senders or Safe Sender List.
For more information on how to add an email address to your Safe Sender List with your email provider, take a look at this article:
If you are expecting an email from Student Success and do not see it, be sure to check your Spam or Promotions folders!