At Outlier, we believe that one of the very best ways to learn (and reinforce your learning) is through dialogue and discussion with your peers. That's why participation in your course's discussion community is included as part of your final grade!
Check your course syllabus to see the exact % that participation contributes to your final grade.
Accessing Your Discussion Community
Access to the discussion community of your course opens on the first day of class at 12 pm EST. Unlike other elements of the course, it's not possible to access the community prior to this time.
When inside your course on the course homepage, you can easily access your discussion community by dropping down the account menu in the top right corner.

You can also access your Discussion via Yellowdig community by accessing your Course Toolkit.

On the Links section of your Course Toolkit page, click Discussion.
Registering for Discussion via Yellowdig

If it's your first time using Yellowdig, you'll need to register for an account.
Navigate to your Discussion Community
The Yellowdig Profile Info page will open. Enter your details to create your Discussion via Yellowdig profile.

Verify your email address or add a new one if necessary. Click Submit.
You'll be brought to your homepage, where you see your course discussion group(s).

If you need more help using Discussion via Yellowdig,

visit the official Yellowdig knowledge base

.
Earning Participation Points
There are a few ways you can score high in participation for your course:
Respond to weekly discussion prompts posted by the Success Team.
Ask a question you are struggling with or found very useful.
Answer one of your peers' questions by starting a thread under their question.
Please give examples, share resources, and post screenshots or videos in the discussion threads to support your thoughts and ideas!
Explaining concepts reinforces your own understanding of the material. When you actively engage in conversations, you learn by reflecting on the subject matter. Sharing your ideas and perspectives with others, questioning, and thinking critically about responses will support your learning as you move through the course!
Tracking Participation Points
On Discussion via Yellowdig, there is a designated scoreboard that tracks your participation for you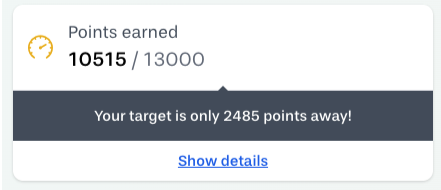 Point Targets
| | | | |
| --- | --- | --- | --- |
| | 15 Week Cohorts (Degrees+) | 14 Week Cohorts | 7 Week Cohorts |
| Point Target | 14,000 | 13,000* | 6,000 |
* College Writing I & II point targets are 12000 for 14-week courses.
Points will be accumulated from the start date of your course through the original Final Exam close date (at 12pm noon ET). Even if you are granted an extension of your Final Exam, you are not able to accumulate additional participation points past the original close date and time.
Community Guidelines
We ask all students in our Discussion via Yellowdig community to follow these simple guidelines:
Ask and answer questions.
Connect with your peers.
Treat everyone with respect.
Do not post quiz or exam questions.
Privacy
Please share your personal information responsibly.
If you wish to add information to your Yellowdig profile (such as full name, job description/title, phone number, and time zone), we welcome you to do so. Still, please be aware that everyone invited to Outlier's Discussion via Yellowdig community can view this information.
For those new to Discussion via Yellowdig, you may find this article useful: Yellowdig Learner Orientation Guide